Key features of the HIV reservoir found that predict when HIV rebounds after treatment discontinuation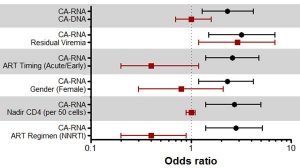 A major goal for HIV treatment is sustained antiretroviral therapy-free HIV remission. Critical to the analysis of potential therapeutic approaches for treatment interruption is the identification of biomarkers that predict the time to viral rebound after treatment interruption. Drs. Li, Gandhi, and colleagues show that higher pre-analytic treatment interruption cell-associated HIV RNA levels were significantly associated with shorter time to viral rebound. These findings indicate that quantification of the active HIV reservoir has the potential to serve as a measure of efficacy of regimens designed to achieve antiretroviral-free remission. Li JZ, et al, AIDS 2016.
To read more, click here.