Richelle Charles, MD selected for the 2020 Department of Medicine Stephen M. Krane, MD Lectureship Award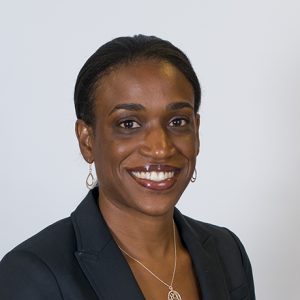 Richelle Charles, MD has been selected for the 2020 Department of Medicine Stephen M. Krane, MD Lectureship Award. The Stephen M. Krane, MD Award was established in 2000 to recognize outstanding young faculty within the Department of Medicine and their contributions to clinical and/or basic research. Named after Dr. Stephen M. Krane, chief of the Arthritis Unit for 39 years, this award continues his legacy of extraordinary research within the Department of Medicine.
Dr. Charles is an exceptional young investigator in the Division of Infectious Diseases who embodies the essence of the Stephen M. Krane Award. She joined the faculty in 2009 after completing her Internal Medicine residency at MGH and Infectious Disease fellowship at MGH/BWH, and was promoted to an Assistant Professor of Medicine at Harvard Medical School in 2013. She has devoted her career to improving global health by decreasing the global burden of mucosal and enteric infections of import which affect resource-limited and marginalized communities.
Her extensive research portfolio includes a multicenter investigation with collaborators near and far, including the International Centre for Diarrhoeal Disease Research, Bangladesh (icddr,b), Partners In Health (Haiti), Sabin Vaccine Institute, Stanford University, and MGH-Harvard, that seeks to broaden our understanding of host-pathogen and immune responses during infection and vaccination with the bacteria that cause cholera and enteric fever. Work in her laboratory is focused on the application of high-throughput proteomic and genomic platform technologies to identify immunogenic antigens for vaccine and diagnostic development for these infections, characterization of immune responses during human infection and vaccination with enteric pathogens, and more recently, SARS-CoV-2 infection. She is credited with the identification of novel targets for diagnostic assay development for acute and chronic enteric fever. Her research has led to over 50 original research publications and two R01s.