Global Health Excellence in Research Award – 2016 Global Health Service Excellence in Research Award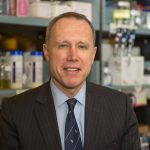 Dr. Edward T. Ryan was the recipient of the first Mass General Hospital's Global Health Service Award 2016 Excellence in Research Award.
Ryan has been a physician and NIH researcher at Massachusetts General Hospital for almost 20 years and conducts pioneering research in infectious diseases.
He has studied diarrheal disease in Bangladesh, published more than 200 peer-reviewed publications and has been cited in over 5,000 academic papers.
Ryan is the director of Global Infectious Diseases at Mass General, a professor of immunology and infectious diseases at Harvard University and helped to found the CDC Global TravEpiNet Program, a national network of clinics across the United States tasked with lessening infections associated with the crossing of international borders.